We Are Hiring – Technical Lead
Technical Lead – Aerofin Laboratories, Burnham-on-Sea, Somerset
About The Job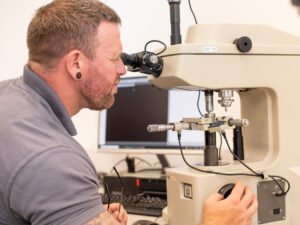 Aerofin Laboratories have an opening for a Technical Lead role. Established in 2006, Aerofin have grown to be one of the leading Laboratories associated with the testing of Surface Finishes. Carrying out a variety of resistance and process control tests for many industries including Aerospace, Automotive, Construction and Power Generation. We have a very strict audit program and alongside our OEM/Prime approvals we also carry NADCAP and UKAS ISO 17025 accreditations. To compliment our plans for further expansion we now seek a Technical Lead to further enhance the existing team. Read more about us here.
Responsible for the day to day technical and specification compliance of all testing activities the Technical Lead requires a sound chemistry background or working knowledge of surface engineering. A degree in chemistry or as a minimum a Technicians Diploma in Metal Finishing or equivalent is required. Knowledge and experience of associated analytical testing methods, techniques and computer skills associated with the operation of a laboratory business management system.
ESSENTIAL ABILITIES:
-Communicate at all levels internally and externally.
-Effectively prioritise workload.
-Be decisive in judgement.
-Work well as part of a team as well as independently.
-High attention to detail.
-Self-motivated.
PRINCIPLE ACCOUNTABILITIES:
-Meeting customer requirements by on time delivery of cost effective, quality testing service.
-Organise and raise work orders and reports for testing in accordance with laboratory procedures and methods.
-Technical review of new specification/customer requirements.
-Ensure calibration and verification of equipment is performed.
-Conduct analysis and testing.
-Contract review of incoming purchase orders.
-In-receipt inspection of work packages for analysis and testing.
-Mentor and train team members as required.
-Equipment troubleshooting.
-Standard material control.
-Bespoke and new testing.
If a role in our small but busy test facility appeals, please forward a current CV in the first instance or you can Easy Apply through the LinkedIn post here.